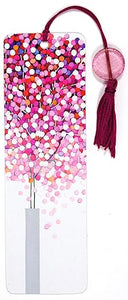 Let this lovely bookmark hold your place in style!

Elegantly fresh design in shades of pink, red, magenta, indigo, mango, and white shines with glossy highlights.

Bookmark is printed on sturdy, smooth-finish cardstock.

Its attractive translucent bead, in shades of magenta, hangs from a matching tassel.

Encased in a protective clear plastic sleeve.

Measures 2-1/2 inches wide by 7-1/8 inches high.